Innehållet nedan modereras inte i förväg och omfattas därmed inte av webbplatsens utgivningsbevis.
CALDAN Overhead Conveyor Systems
Tillbaka till företagsprofilen.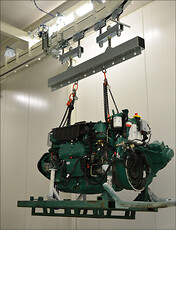 We offer an extensive range of overhead conveyor systems ranging from simple manual systems, through powered single line (mono rail) to complex Power & Free systems.
A total of 6 different systems have been developed for unit load weights from a few grams to 10.000 kg.
All the systems have been developed first and foremost for the extremes of the surface finishing industry and are designed for operating at high efficiencies with minimum maintenance.
OUR OVERHEAD CONVEYOR RANGE
SINGLE LINE SYSTEMS:
C68 - simple & reliable solution to your handling challenges
Single Line - flexible & reliable system for materials handling
Single Line C-Hook - inverted system for materials handling

POWER & FREE SYSTEMS:
P&F380 - light, all-round system for materials handling
P&F400 - all-round system for materials handling
P&F420 - heavy duty P&F system, loads up to 10.000 kg
CALDAN Overhead Conveyors
Fakta om CALDAN Conveyor A/S
Adress
CALDAN Conveyor A/S
Røddikvej 91
8464 Galten
Region
Danmark
Midtjylland
Skanderborg Kommune
Telefon: +45 86947071
Fax: +45 86947026
VAT nummer: DK14264132
P nummer: 1000710534
Anställda: 140