Innehållet nedan modereras inte i förväg och omfattas därmed inte av webbplatsens utgivningsbevis.
CALDAN Floor Conveyor Systems
Tillbaka till företagsprofilen.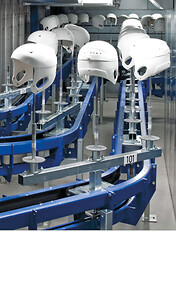 We believe that we offer the most comprehensive range of chain based floor conveyor systems available in the market.

A total of 10 different systems have been developed for unit load weights from a few grams to 2,000 kg.

All the systems have been developed for the extremes of the surface finishing industry and are designed for high accuracy of presentation of product to process along with excellent stability characteristics.
OUR FLOOR CONVEYOR RANGE:

SINGLE LINE SYSTEMS
VLD - Very Light Duty floor conveyor system
SD - compact double rail floor conveyor system
HD100 - Heavy Duty triple rail floor conveyor system
HD100S - vertical single line floor conveyor
HD140 - new Heavy Duty single line floor conveyor

POWER & FREE SYSTEMS
P&F100 - precision engineered P&F system
P&F100S - vertical P&F floor conveyor system
P&F120 - self accumulating P&F system
P&F140 - heavy duty P&F floor conveyor system
P&F160 - self accumulating P&F system
CALDAN Floor Conveyors
Fakta om CALDAN Conveyor A/S
Adress
CALDAN Conveyor A/S
Røddikvej 91
8464 Galten
Region
Danmark
Midtjylland
Skanderborg Kommune
Telefon: +45 86947071
Fax: +45 86947026
VAT nummer: DK14264132
P nummer: 1000710534
Anställda: 140