Innehållet nedan modereras inte i förväg och omfattas därmed inte av webbplatsens utgivningsbevis.
CALDAN P&F160, Power & Free Floor Conveyor
Tillbaka till företagsprofilen.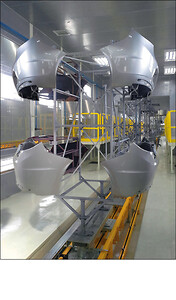 The P&F160 is the latest expansion of our extensive floor conveyor range, and is based on exactly the same profile and drive system technology as the 140-system conveyors.
This heavy duty conveyor is a self accumulating Power & Free system, setting a new benchmark when it comes to handling the largest, and heaviest, unbalanced jigs.
Developed for applications where the need for Power & Free technology is required in sections such as storage areas, ovens etc. where space is at a premium, but where general process areas only require fixed pitch operation.
The supreme accuracy in guiding is secured by the 4 horizontal guide bearings as well as the fully adjustable "Free" track.
Compared to traditional skid systems or roller conveyors, the P&F160 operates with high reliability and smoothness. This is due to the limited use of drive units and sensors, requiring a minimum of effort and interference from the control system.
Further system advantages:
• Possibility to accumulate in line
• No need for expensive control systems for accumulation sections due to self accumulating design
• Operate at different process speeds on the same line
• Low maintenance - less moving sensible parts require less attention
• Full flexibility - complete freedom during the design stage as well as the advantages from traditional Power & Free systems (switching gates, accumulation zones etc.)


P&F160
Fakta om CALDAN Conveyor A/S
Adress
CALDAN Conveyor A/S
Røddikvej 91
8464 Galten
Region
Danmark
Midtjylland
Skanderborg Kommune
Telefon: +45 86947071
Fax: +45 86947026
VAT nummer: DK14264132
P nummer: 1000710534
Anställda: 140